About Us
NKH Solution continue work together with our principle to provide our customer better and affordable solution. NKH Solution provides you with our 5'S Service, Consultation & Suggestions.
Support
Sales
Solution
System
Software
NKH Solution provides a broad portfolio of business & technology solution to helps its clients improve their business performance & communications with IT Technologies. Our core portfolio comprises information - technology, applications & business process services, as well as information-technology transformation service.
Learn More
Our Latest Program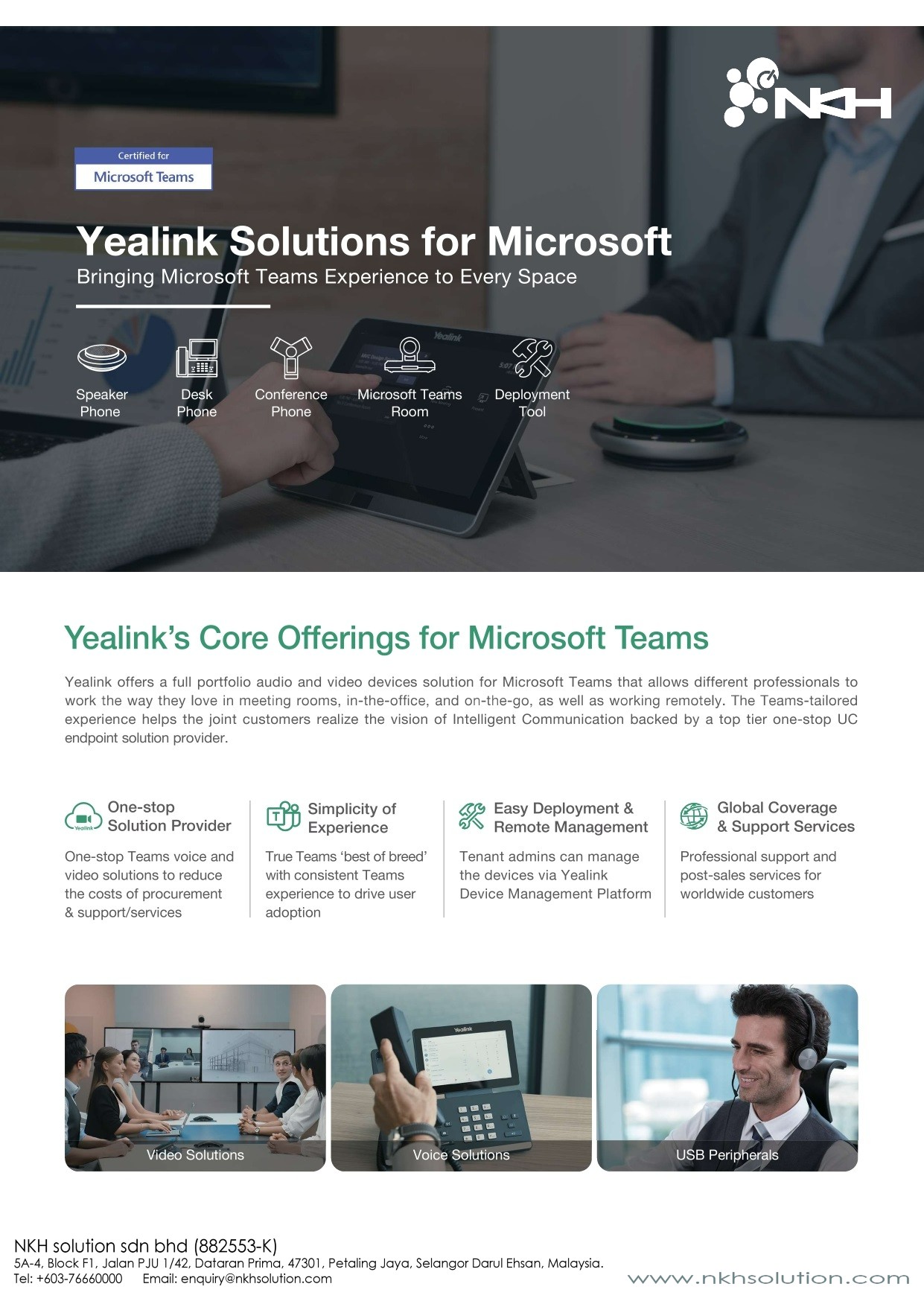 Yealink - Full Portfolio Video Devices for Microsoft Teams
Video Phone | Microsoft Teams Rooms on Android | Microsoft Teams Rooms on Windows
Yealink offers a full portfolio video devices solution for Microsoft Teams, covering from huddle to extra-large meeting spaces, including Microsoft Teams Rooms (MTR) on Android, Microsoft Teams Rooms on Windows, and video phone. To meet different requirements of customers, Yealink not only provides the MeetingBar A20 and A30 for small and medium spaces, but also provides the MVC940 room system that can meet the needs of extra-large rooms covering up to 30 users.

With Yealink video solution, users can enjoy the premium video and audio experience, easy deployment and remote management via Yealink Device Management Platform, all of these bring the consistent and seamless Teams experience to every space.
NKH Connect - Malaysia 3CX Hosted IP-PBX Provider
NKH Connect offer you 3CX Private Cloud IP-PBX telephony in Southeast Asia - Malaysia, Singapore, Indonesia, Thailand, Philippines, Brunei, Cambodia and Myanmar. Authorise "3CX Cloud Managed Hosting Partners" and "3CX Platinum Partners". Now you can get 3CX Phone System in the cloud, and save on initial hardware, licensing, setup and maintenance costs.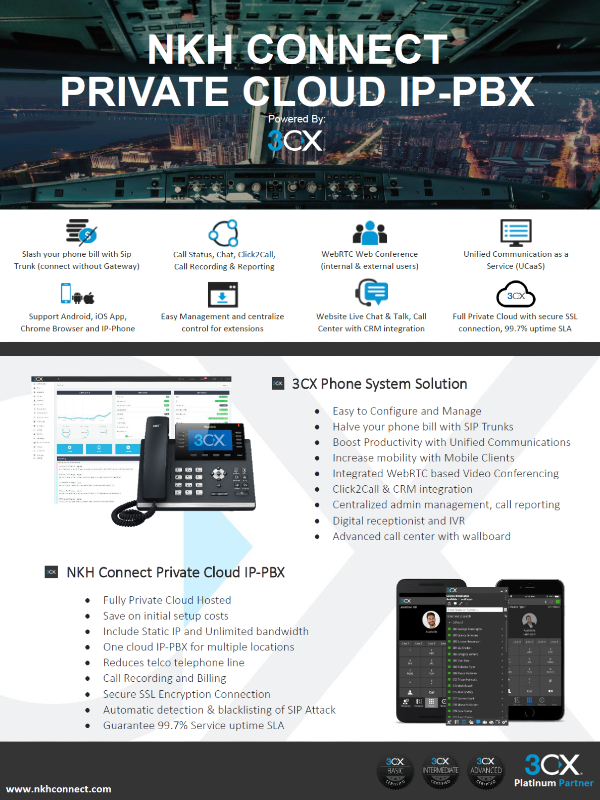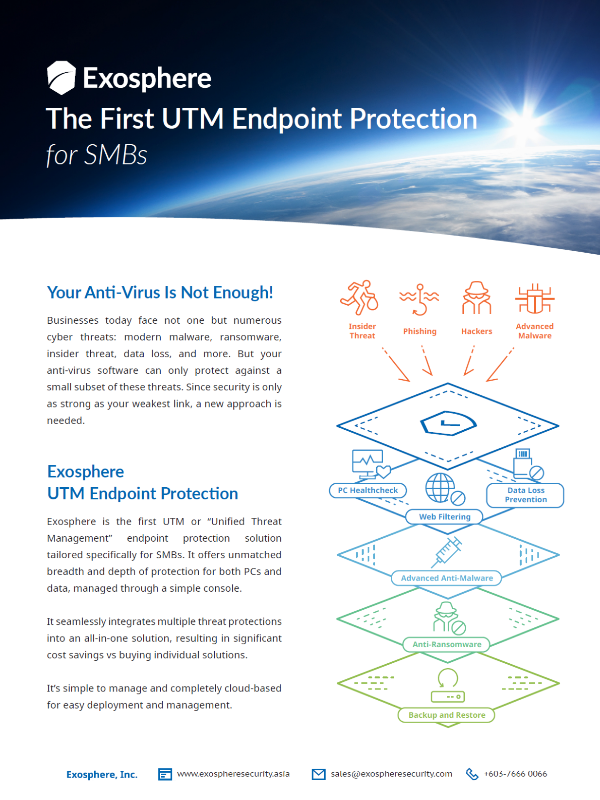 Exosphere Endpoint Security - The First UTM Endpoint Protection for SMBs
Exosphere combines the most complete layers of protection with the broadest protection against attack vectors. Managed through a simple all-in-one console. Your old antivirus is no longer enough. Your businesses today is facing not only viruses but numerous advanced threats: advanced malware and ransomware, the insider threat, data loss, and more. Exosphere UTM endpoint protection provides you the most complete coverage from these threats.
SMBs are becoming major targets. In 2017, 61% of SMBs were targeted by cyber attacks and only 39% had the needed security system in place to block the attack. With Exosphere, you don't need to purchase, install, and manage multiple solutions. Our all-in-one solution has all your bases covered. Our unified threat management (UTM) endpoint protection approach combines the broadest breadth and depth of protection with the right level of cost and complexity to create the perfect solution for SMBs.
Exosphere protects against all critical attack vectors including advanced malware, ransomware, phishing, and insider threats. It combines this with the most complete layers of protection in the industry including PC healthcheck, web filtering, data loss prevention.
SecuLetter - Cloud Advanced Email Security Solution
Advanced Email Security service for SMBs using public cloud mail service. SecuLetter supports integration with Office365 and G-suite mail service.
SecuLetter proactively blocks the threats such as ransomware, zombie program, zero-day attack, spear phishing, and especially provides powerful performance on unknown attacks by assembly level analysis.
SecuLetter advanced email security service is provided as a hosted service to support both in-house mail server and public cloud email users. The service will be provided in annual subscription based with reasonable pricing.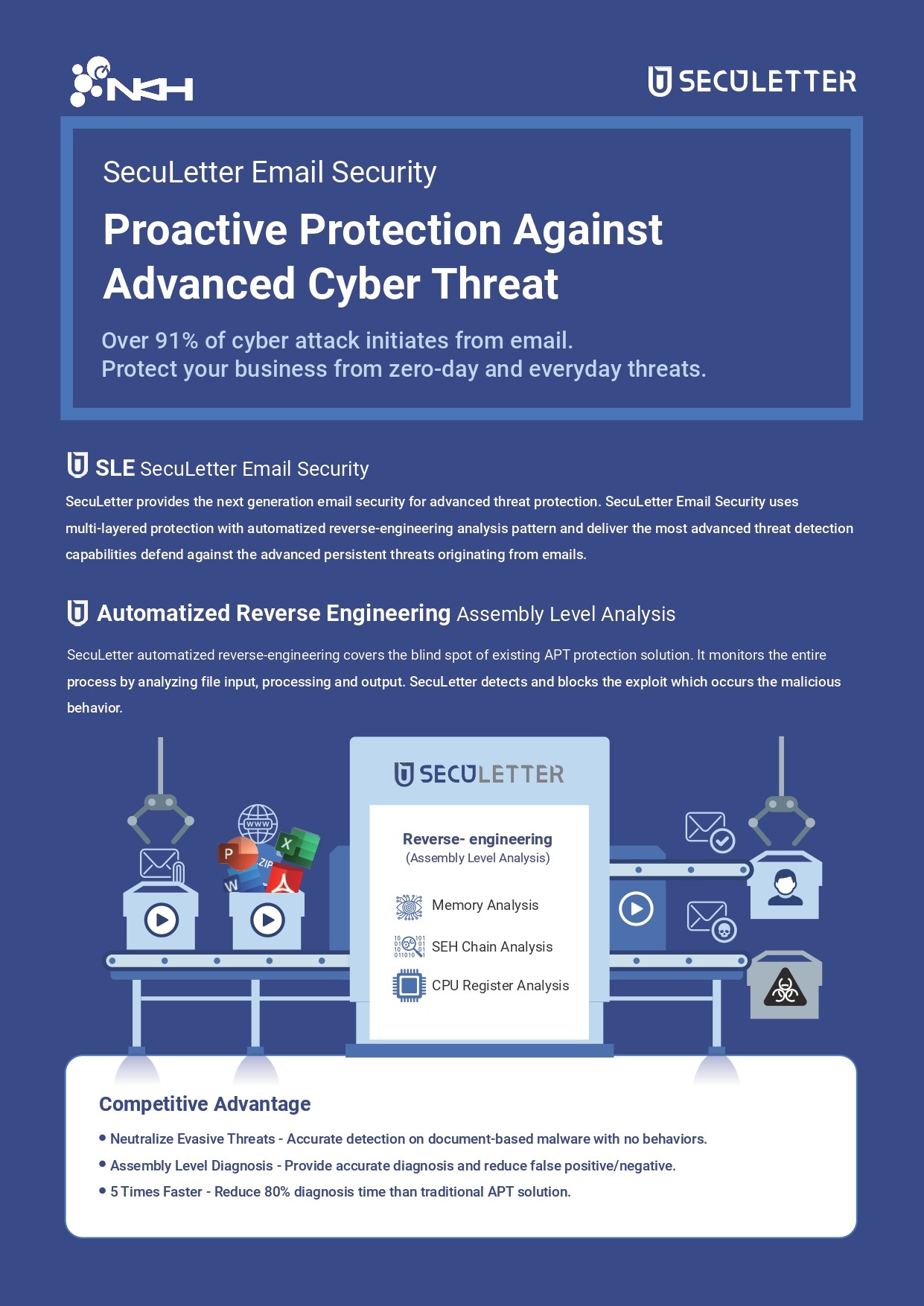 Services
NKH Solution continue work together with our principle to provide our customer better and affordable solution. Check out our services and contact us for more detail.
Our Product
Our company involves supply of high quality products and reasonable pricing for our client in some brand of products & services to our clients. We carry a wide variety range of products & services for our client flexibility in choosing the choices of their own.
All
Server & storage
Networking
Security Solution
IP Telephony
Video Conference
Others
Contact Information
Our Location
NKH Solution Sdn Bhd | 882553-K
5A-4, Block F1, Jalan PJU 1/42, Dataran Prima, 47301, Petaling Jaya, Selangor, Malaysia
Email:
NKH Solution (SG) Pte Ltd | 201937467R
652A Jurong West Street 61 #03-386 Singapore 641652
Email: